Final Furlong Horse Retirement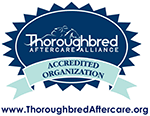 FINAL FURLONG is a non-profit 501(c)3 charity (Incorporated 4/01/09), created to establish a safe and secure environment for racehorse graduates of Niall Brennan Stables and it's clients upon completion of their racing careers.
The goal of FINAL FURLONG is to find a caring home suitable to each horse's ability: show, pleasure or simple retirement.   Upon arrival at FINAL FURLONG, a veterinarian will assess each horse and any infirmity or unsoundness will be treated.  The horse will then begin the "let down" process and spend a minimum of 60 days at our facility.  The horse has completed its transformation from racehorse to companion horse when it has become:
 relaxed
 physically sound
 carrying good condition and easy to maintain
 safe to handle
FINAL FURLONG will start the process of selecting a home once each horse has achieved this state.   Because each horse is a graduate of our program we will be very familiar with their attitudes, abilities, temperament and we will do our best to match horses to individuals so that everyone benefits from our program.  All horses will be free of charge to the approved adopting home.
FINAL FURLONG simply wants to give these horses, who have given so much, an opportunity to excel at another career. At the same time, owners and clients will have the peace of mind of retiring their horses with the knowledge that they will be given a loving home.  Those who donate a horse to the program are asked to make a one-time donation equivilant of one month's board at the racetrack. Final Furlong will assume ownership of the horse immediately and cover all the expenses involved from that point on.
Donations to our program for the care and comfort of these horses are gratefully accepted
Final Furlong also wishes to thank the following people for their continued support to our program.  FEVA, Brookledge Horse Vans, Creech Horse Vans,  Blacksmiths: Cole Connell  and  Steve Sheppard.   We truly appreciate your expertise and kindness!
Please feel free to contact us if you are interested in our program.
Stephanie Brennan at stephanie@niallbrennan.com
Current Final Furlong Horses
The horses listed below are considered our "lifers". They are happy and healthy horses but are unplacable due to racing or training injuries. Final Furlong has dedicated a 15 acre paddock to the lifers so they can safely and comfortably live our their life. They are attended to by their groom who feeds them twice daily, grooms and bathes them. Life is a good thing for these lucky guys!
Current Lifer Horses
| Photo | Status | Name | Sex | Sire | Dam | St. | YOB | Color |
| --- | --- | --- | --- | --- | --- | --- | --- | --- |
| | | Ace Pilot | gelding | With Distincition | Story Of Glory | | 2009 | |
| | | Castle Knock | horse | Dixie Union | Listen Missy | KY | 2005 | B |
| | | Esperence | gelding | Wild Again | Lotka | | 1997 | |
| | | FLASH | gelding | | | | 2019 | Chestnut |
| | | INDIAN KEY | gelding | GIANT'S CAUSEWAY | BOCA GRANDE | | 2010 | Bay |
| | | Medal Round | gelding | Medaglia D'Oro | Tee Off | | 2007 | Bay |
| | | MONEY LAUNDERING | gelding | Overanalyze | Greenbackhasvalue | | 2015 | |
| | | OSCAR | gelding | Cat Thief | Flowers For My Lady | | 2002 | |
| | | Sumphin | gelding | Siphon | Fiscal Gold | | 2004 | |
| | | U.S. Deputy | gelding | Not For Love | Lemons N Limes | | 2006 | |
Congratulations and Best of Luck to new partnership
2023
Stamkos (aka Joey) and Sarah Doran
Stormy Novel and Savannah Show Stables
Qualione and Savannah Show Stables
Breton Girl and Tri Color Stables
Full Coverage and Angie Chovick
Grand Cay and Patrick Wilcher
Hereditary and Ana Kent
Bucky Bit Coin and Tri Color Stables
Branch Office and Betsy Burke Parker
Cascia Hall and Angie Chovick
Top Seed and Cheryl Gilger
2022
Patagonia and KER Thoroughbreds
November Air and Kansas Angel
Kunik and Shannon Rinser
Liquify and Savannah Show Stables
Hypervelocity and Monique Kent
Freeze The day and Sam Smejkal
Exotic Renegade and Samantha Streak
Ticket To Heaven and Samantha Streak
Imminent Storm and Daisy Traynor
Leroy and Sarah Fox
Neferet Diamond and Brittany Pledger
Grand Cay and Ashley Phipps
More Than Usual and Katie Walker
Narmer and Taylor Unger
Scarlett Sky and Tri Color Stables
2021
Darnley and Meg Donahue Halloran
Dr. Mounty and Sara Benson
Gubernatorial and Sami Turner
Live Transmission and Joy Lambert
Medal of Honor and Brittany Pleger
Allured and Nathan Chalres
Helena's Triomphe and Savannah Show Stables
Dynamic Holiday and Katie Korsach
Sambacer and Angie Chovick
Patriot Games and Daisy Trayford
Miss Amelia and Matthew Bryner
Hey Hottie and Tyson Alright
Rapt and Nate Simmons
Miss Amelia and Mathew Bryner
Fabulous Fun and Haile Equestrian
Sentry and Jane Ashe Gailard
Patriot Game and Regina Esterman
2020
Midnight Curfew and Lacey Westover
Medina Ridge and Joy Lambert
Deal With It Dude and Jesse Karkoski
Undertherain and Daisy Traynor
Miamaya and Emma Whillan
False Confession and Hannah Grimm
Blockade and Joy Lambert
Fast Talking and Horse Haven Stables
Castle Road 18 and Annelisa McCavera
Majestic View and Kate Gilger
Fabulous Fun and Mary Hunter
Mezzanotte 19 and Savannah Unger