Rescue Stories
Unadilla Auction Girls
Final Furlong learned of an auction for 35 thoroughbreds horses in Unadilla, NY.  As always, we searched the list of horses to see if any of our NBS grads were there.   Sadly, two broodmares, Qualionne and Spinnergy, Graduates of 2011 were about to be auctioned.   With the help of NY Trainer Rick Schosberg and TRF friend Chelsea O'Reilly, we were bidding on the "girls".  Shortly we were the proud owners of two broodmares in fairly rough condition.  Chelsey drove 2 hours to pick them up and also arranged quarantine boarding at a friend's farm as well as extensive care to help get them ready for their long journey to Florida.
The girls have arrived safely,  Qualionne will rebound quickly, Spinnergy has a long road ahead of her but she has already shown us a determined spirit and incredible intelligence.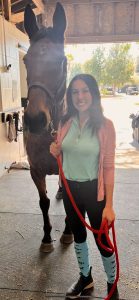 "We are very happy to have "Q" be a part of the barn family & program. She is the best baby sitter & an absolute cuddle bug. She is baby sitting on the new geldings that is imported. The horse keeps running around the field and "Q" did just the trick at keeping him calm & happy! Thank you for trusting us with her." -Savannah Unger
NARMER
In early September we learned that one of our graduates was in the care of CTA in Puerto Rico.  We quickly reached out to Kelly Stobie and offered him a spot in Final Furlong.   She sadly informed us that he was in pretty rough condition but that didn't matter to us.  We were ready to welcome him home!
Narmer walked off the van at 3 am after an incredibly long journey and just wanted to graze.  Stephanie happily grazed him for 1/2 hour stating it was the first time she had ever grazed a horse at that hour!
Narmer is the epitome of class and has flourished in our program.  In addition, he has already been adopted by a young family, in fact, he met his new person while she was heavily pregnant and it was instant love between Taylor, her daughter and her now infant!
MISS AMELIA
Miss Amelia was a 2011 NBS Program Graduate who raced in Minnesota and then went on to produce 4 foals.  The last being registered in November of 2019.   In August of 2020, we were notified by an individual that she had turned up at a feedlot in Eaton, CO.    The individual wasn't familiar with Thoroughbreds and lucky for us put the time and effort into finding Miss Amelia's connections.  We immediately bought her and were told that a horse her size and age should bring an average of $1,100 (meat price).   Her condition was so poor that we paid $700!  The stars lined up and we were able to quickly find her a ride.   The terrified mare quietly loaded on the trailer and made her 48 hour trek to GA were she stayed for several days until shipping arrangements and paperwork was sorted for her last leg of the journey.   A week after first hearing about her plight, Miss Amelia arrived at our farm.   Her condition was beyond horrible,  heartbreaking for all of us to see but rest assured, she is being well loved and slowly coming back.   It is amazing she was able to make the long, hard journey but we are delighted with her spirit and tenacity.
BYANOSEJOE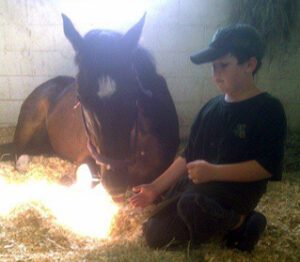 In early July, Final Furlong received a phone call asking us if we knew of a horse called BYANOSEJOE, of course we did as he was a Niall Brennan Stables Sales Graduate of 2004. After a distinguished career, winning the Trippi Stakes and earning over $190,000 primarily in New York. BYANOSEJOE was retired and given away as a riding horse. The rest of his story is unclear but he was found by a horse rescue volunteer at New Holland, PA in deplorable condition. He is emaciated and his feet are riddled with abcesses. In fact he was deemed "too skinny and too sickly for slaughter" by one of the meat buyers!
He arrived at Final Furlong on July 14, 2011. He is bright eyed and curious but has a long road ahead of him. Thanks to the generosity of his past connections including past trainer, Rick Dutrow; past owners Tony and Kim Dutrow, Michael Dubb, Gabrielle Stables, Joe Torre, yearling consignor Eaton Sales and Niall Brennan Stables a fundraising effort has been started to ensure he gets the care he deserves. Special thanks also to Brookledge Horse transport for bringing him home and Raul Bras of Rood and Riddle podiatry clinic for his new shoes!
ROLL THE IVORY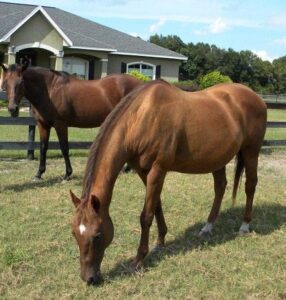 ROLL THE IVORY had an unremarkable career as a racehorse but she was regally bred, and quickly started her career as a broodmare producing 13 consecutive foals. Her last foal was born in 2007.
In 2010, FINAL FURLONG was contacted by a local rescue organization as ROLL THE IVORY was one of over 60 thoroughbreds found abandoned on a local farm. "IVY" was in horrific condition and FINAL FURLONG was approached for two reasons;
(1) We could provide the high level of care that she would need
(2) She was bred by a long time client of Niall Brennan Stables.
"IVY's" luck changed with that simple phone call! I contacted our client who quickly made a donation to her care. He had bred IVY 17 years ago, yet still was willing to take responsibility. I also contacted the stud farm where her sire, Diesis stood and they also made a donation. Within two phone calls, IVY's first year was covered. I am very proud to be associated with people like this in the thoroughbred industry.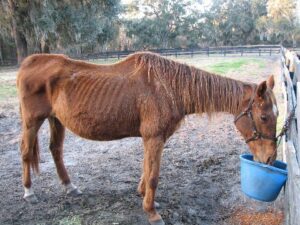 "IVY'S" journey had just begun! When I arrived to pick her up, I brought a longtime associate and noted horseperson with me. As we were loading IVY in the trailer (which took over 15 minutes as she was so weak could only take a few steps at a time!) my friend burst into tears, not only at the devastating condition of IVY but at her class and determination. IVY knew we were there to help her and never questioned our actions. When we arrived at Huntingvale Farm, IVY was simply exhausted by the short journey. Again we had to let her rest before we tried to walk her into her stall.
From that day on, IVY made remarkable progress. Day by day her strength and condition improved. At the end of her first 6 months , she was a completely different horse! Her class and wish/determination to live prevailed; simply, she has stolen everybody's heart!
She lives with a treasured retired broodmare who is 24 and the old girls rule the roost at Huntingvale! They each have a stall with a fan for the extremely hot Florida days but much prefer to hang out side by side in their shady paddock! The girls are truly joined at the hips and give a new definition to the term Best Friends Forever!
It would be very traumatic for IVY and difficult for all of us to have to uproot her. She deserves to live out her life in a dignified manor! We are delighted to provide a forever home for this old, proud mare.
CASTLEKNOCK (Dixie Union/Listen Missy)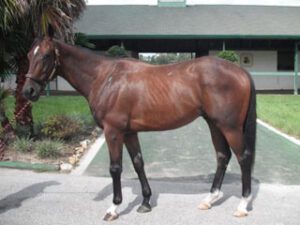 Castleknock was a 2004 Niall Brennan Stables Program Graduate who found his way down to the lower rungs of the claiming ladder. Final Furlong became concerned by his continuous poor performance at this level. As is our policy, we contacted his trainer and let him know that Castleknock was eligible for our retirement program.
A few months later, the trainer contacted us to let us know Castleknocks racing career was over and he was ready to give the horse to Final Furlong. Transportation was arranged, yet constant mix up in paperwork resulted in Castleknock missing his van ride twice. At that point, the trainer moved the horse to a local farm where he escaped from his handler and ran down a paved road. He fell on the road and ended up with a horrific road rash. The trainer assured us he would look after the horse until he was okay to travel.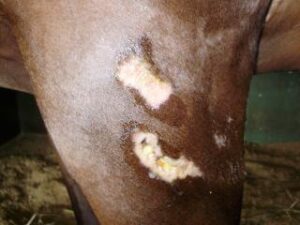 "Lucky's" luck changed with a simple miscommunication! The van arrived once again to pick up Lucky even though he wasn't ready to travel. But upon seeing Lucky the van driver was adamant she was picking up the horse. He was covered in open, infected wounds and had not received a veterinarian care. Needless to say, Lucky arrived in a sad state. Upon arrival, it took his groom over two hours to pick out the pieces of paper towel (which they used to cover his wounds) from his infected legs! As well, unbeknownst to us, Lucky also had a badly fractured knee.
Two years later, with loads of TLC, Lucky is the treasured trail riding horse of Jane Hilger. His recovery exceeded everyone's expectations and he is a treasured member of her family!
Lot 614 – MORE THAN CAPABLE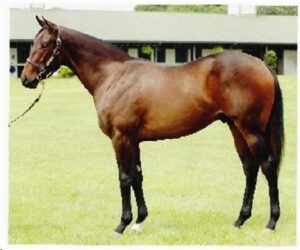 A program graduate of 2007 was found to be on his way to Eagle Pass, Texas on June 5, 2010 to be exported into Mexico for slaughter.. .  It took a team effort to find this horse and bring him back home. These horses are innocent animals that do so much for us. The least we can do is give them a good and happy life in return!
MORE THAN CAPABLE arrived safely home on Sat. June 19!  Thank you to the many people who helped to save this horses' life including: Cindy Gustafson, Darren English, Diana Baker,  Alana Sherwood, Bart Sherwood, Jessica Stegall, Bubba, and especially Brookledge Horse Vans who brought him home from Texas!